World's longest sea crossing: Hong Kong-Zhuhai bridge opens
World's longest sea crossing: Hong Kong-Zhuhai bridge opens
Chinese President Xi Jinping has officially opened the world's longest sea crossing bridge, nine years after construction first began.
Including its access roads, the bridge spans 55km (34 miles) and connects Hong Kong to Macau and the mainland Chinese city of Zhuhai.
The bridge cost about $20bn (£15.3bn) and should have opened in 2016.
Construction has been dogged by safety issues – at least 18 workers have died on the project, officials say.
'World's longest' hanging foot bridge opens in Switzerland
Russia opens controversial bridge to Crimea
Mr Xi attended the opening ceremony of the bridge, which took place in Zhuhai, along with the leaders of Hong Kong and Macau.
Limited bus services begin on Wednesday.
What's so special about this bridge?
Designed to withstand earthquakes and typhoons, it was built using 400,000 tonnes of steel, enough to build 60 Eiffel Towers.
Images of China's mega bridge
About 30km of its total length crosses the sea of the Pearl River delta. To allow ships through, a 6.7km section in the middle dips into an undersea tunnel that runs between two artificial islands.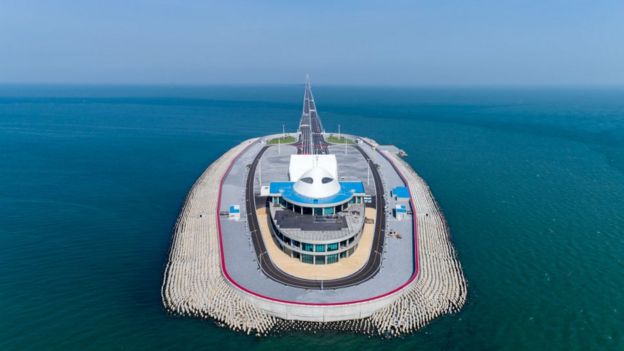 The remaining sections are link roads, viaducts and land tunnels connecting Zhuhai and Hong Kong to the main bridge.
Why has it been built?
It is part of China's plan to create a Greater Bay Area, including Hong Kong, Macau and nine other cities in southern China.
The mega-machines helping China link the world
Do you dare cross China's glass bridges?
The bridge where you can 'walk through god's hands'
The area is currently home to 68 million people.
In the past, travelling between Zhuhai and Hong Kong would take up to four hours – the new bridge cuts this down to 30 minutes.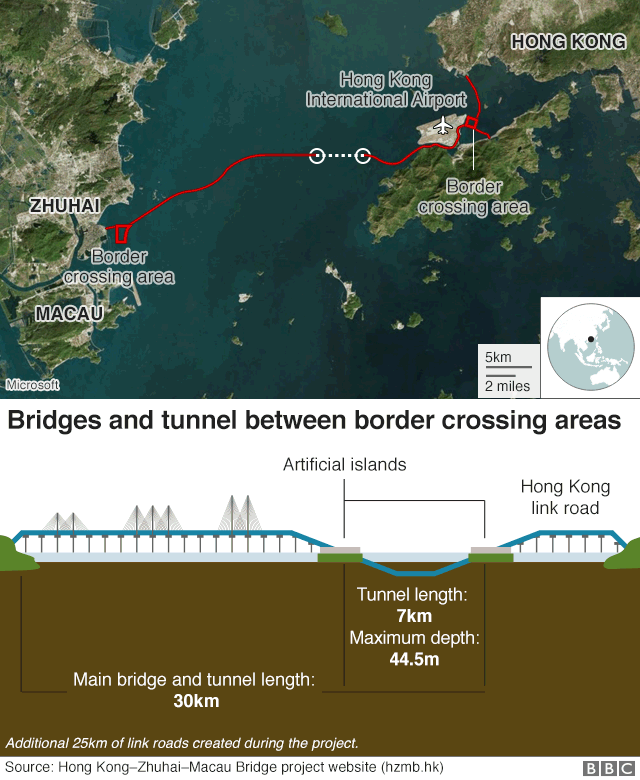 Can anyone drive across the bridge?
No. Those who want to cross the bridge must obtain special permits, allocated by a quota system. And all vehicles will pay a toll.
The bridge is not served by public transport, so private shuttle buses will ply the route. There is no rail link.
Authorities initially estimated that 9,200 vehicles would cross the bridge every day. They later lowered their estimations after new transport networks were built in the region.
What are people saying about it?
There's been a great deal of criticism of the project.
It has been dubbed the "bridge of death" by some local media. At least nine workers on the Hong Kong side have died and officials told BBC News Chinese that nine had died on the mainland side, too.
Hundreds of workers have also been injured during the construction.
It's fitted with 'yawn cams'?
Special cameras will be on the look-out for drivers on the bridge who show signs of getting sleepy, among other checks – yawn three times and the authorities will be alerted, local media report.
To help counter potential terror attacks, there will also be "48 high-definition surveillance cameras" mounted at intervals along the bridge as well as anti-terror police patrols, the South China Morning Post reports.
And drivers will have to change which side of the road they are on at the crossing. People drive on the left in Hong Kong and Macau but the bridge is Chinese territory and special merger channels have been built to cope with this.
---
Source – https://www.bbc.com/news/world-asia-china-45937924